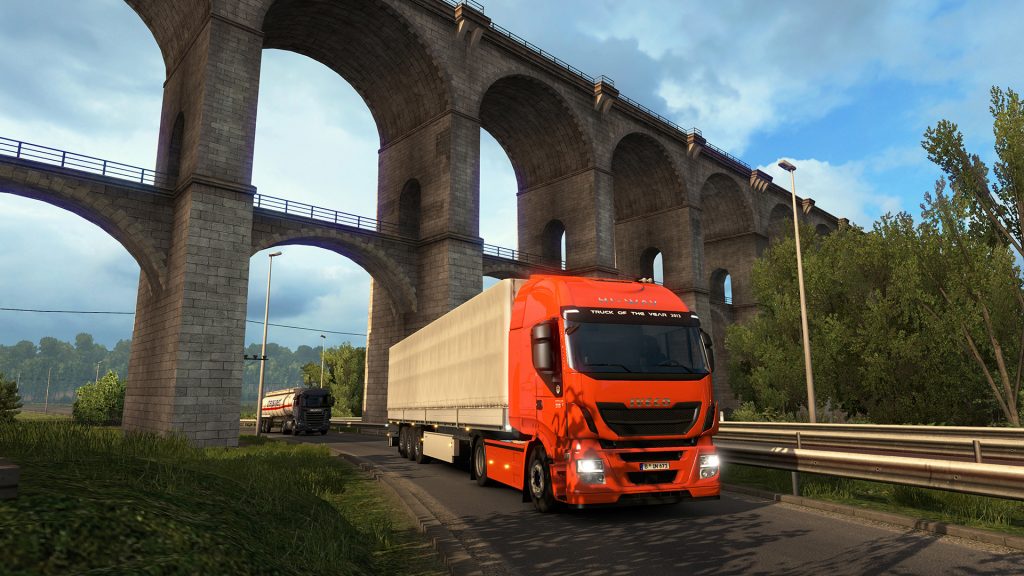 It started quite some time ago now. Back in 2013 the Czech-based game developer SCS Software released the successor game to their previous Euro Truck Simulator and boy has it grown since then!
The base game gives the player the opportunity to drive commercial lorries (or trucks, depending on what English dialect you prefer) across parts of western Europe and the United Kingdom. Good enough in itself, but why stop there? The game provides for what could only be seen as the most natural way of using DLCs ever – by expanding the driveable map.
So over time the map has expanded. And expanded. To the east, to the north, to the south. And then more to the east. The DLCs in order of release are:
Going East – Adds Poland and Hungary.
Scandinavia – Adds Denmark and the southern halves of Norway and Sweden.
Vive la France! – Adds France.
Italia – Adds Italy.
Beyond the Baltic Sea – Adds the three Baltic states, the southern part of Finland and a little piece of Russia including Saint Petersburg.
Road to the Black Sea – Adds Romania, Bulgaria and the European part of Turkey, making it possible to drive from Glasgow to Istanbul if you so wish.
Iberia – Adds the Iberian peninsula with Spain and Portugal.
After Iberia the plan was to add a bigger chunk of Russia to the map with the DLC Heart of Russia, but due to unforeseen circumstances SCS decided that particular DLC will be shelved until further notice. The next addition to the map will instead be West Balkans.