As is customary for Giants Software's Farming Simulator series the game gets a brushed-up expanded edition at the one year mark which is marketed as the platinum edition. This time is no different and so Farming Simulator 22 has premiered in its new repackaged form. As usual there is of course also possible for people who already own the base game to purchase the platinum edition content as an expansion.
This year the Platinum edition/expansion puts its main focus on the forestry parts of the game. This means that there is a new map called Silverrun Forest included together with a line of new factories for producing new shiny things – primarily out of forest resources – and a slew of new machinery as well.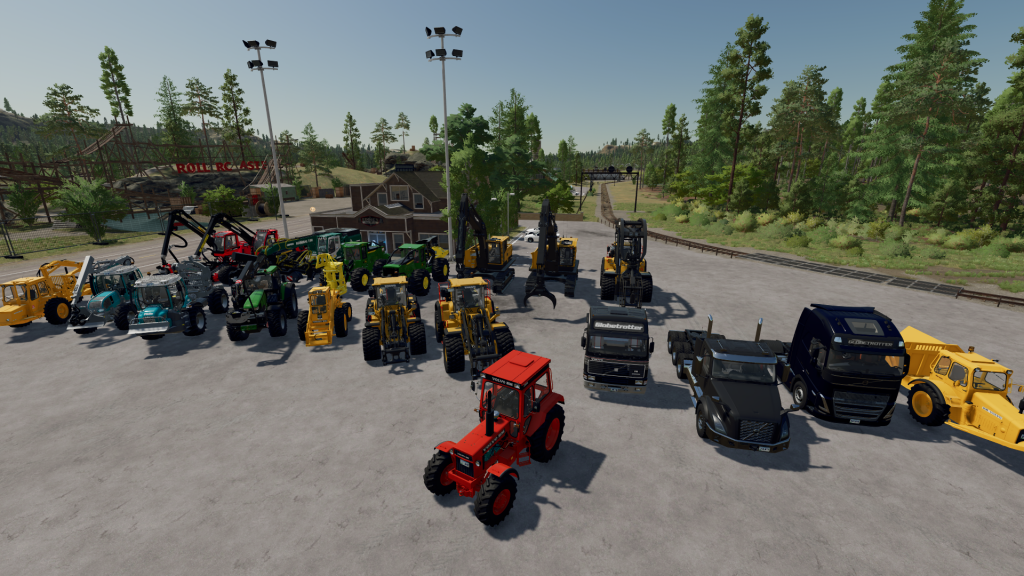 The Silverrun Forest map is foremost a forestry map – there are only a few fields for agriculture included – and its setting is North American. Personally I was positively surprised by the map. Usually the maps that are delivered with the game are in my opinion more to be seen as demonstration maps that is useful as beginner maps until third party mod maps are available. In this case though Silverrun Forest feels like a map with a lot more potential than that. The forests are big and the landscape is very well done to give that feel of a northern forest outback.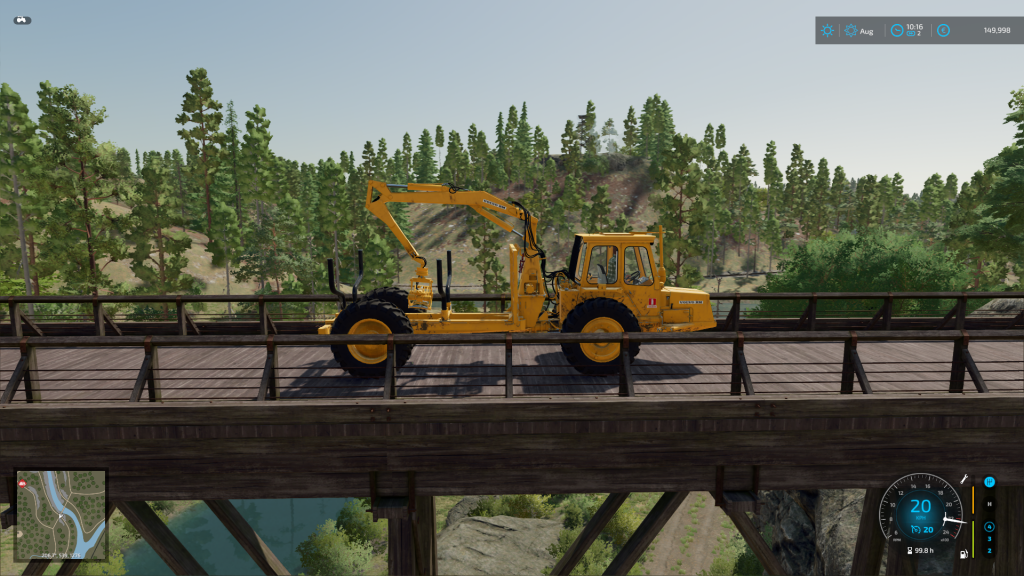 When it comes to machinery there is quite a bit of new things included in the package. The most prominent of the new brands in the platinum pack is Volvo, which makes sense considering the company has a big production of machines in the forestry, mining and transportation sectors. In total the platinum expansion includes no less than twelve machines from the Swedish brand – from the oldtimer Volvo BM 2654 tractor to the state-of-the-art Volvo FH16 truck and a Volvo L200H wheel loader. In addition to that there is also new content from such brands as John Deere, Schwarzmüller, and Komatsu – just to mention a few. And while the included map is North American there is a good mix of both European and American machinery included in the package with both more American styled John Deeres as well as European Pfanzelts and Volvo-branded trucks from both their American and European line-ups.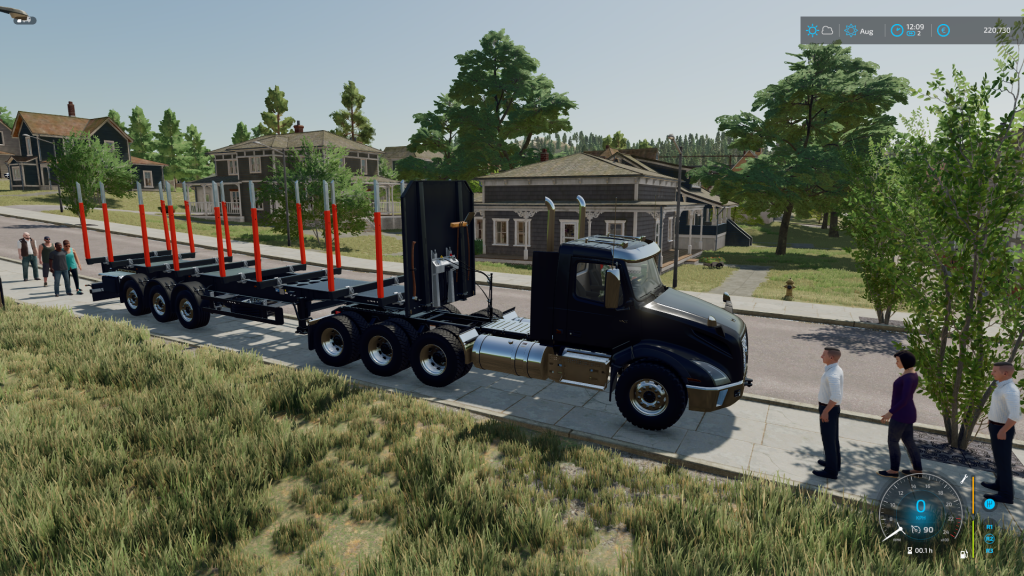 What is particulary nice is the mix of new and old machines included. Finding an old Volvo BM tractor in the pack was a nice surprise while the older wheel loader and haulers make the entry into forestry more affordable for those of us who like to enter a game from a more modest start-from-scratch setting.
Since it is about forestry the handling of trees have got an overhaul with new tree species. Now you can plant, grow and cut down sequoias and two new species of pine. In addition this is also nice simply becaue it can make the forests look a bit more varied. There are also some updates to the planting and harvesting methods, as well as new ways to transport the timber from the forest with the help of winches, loaders and containers.
Another entirely new thing is the rock breaking equipment. With this it is now possible to earn some extra money removing malplaced rocks from the forest. An interesting addition which I hope will also make its way into third-party mod maps.
One of the new things in FS22 – production chains – is developed further by adding new ones. The new shiny things factories can make now are barrels, furniture, flooring, iron, paper, shingles, decorative wood objects, and art and pet accessories. These all works in the same fashion as the already existing production sites and are able to be used and placed in any map you wish.
Closely related to the production thinking but yet a different thing are the brand new construction projects. By growing and selling your trees you can help in the construction of big projects such as a rollercoaster (and yes, you will apparently be able to ride it when complete), or making sailing boats at the local wharf. These kind of project are more of long-term projects in that it will take a not insignificant amount of different items from a lot of production factories in order to complete them. They are a nice way to add another, more tangible goal in the game though.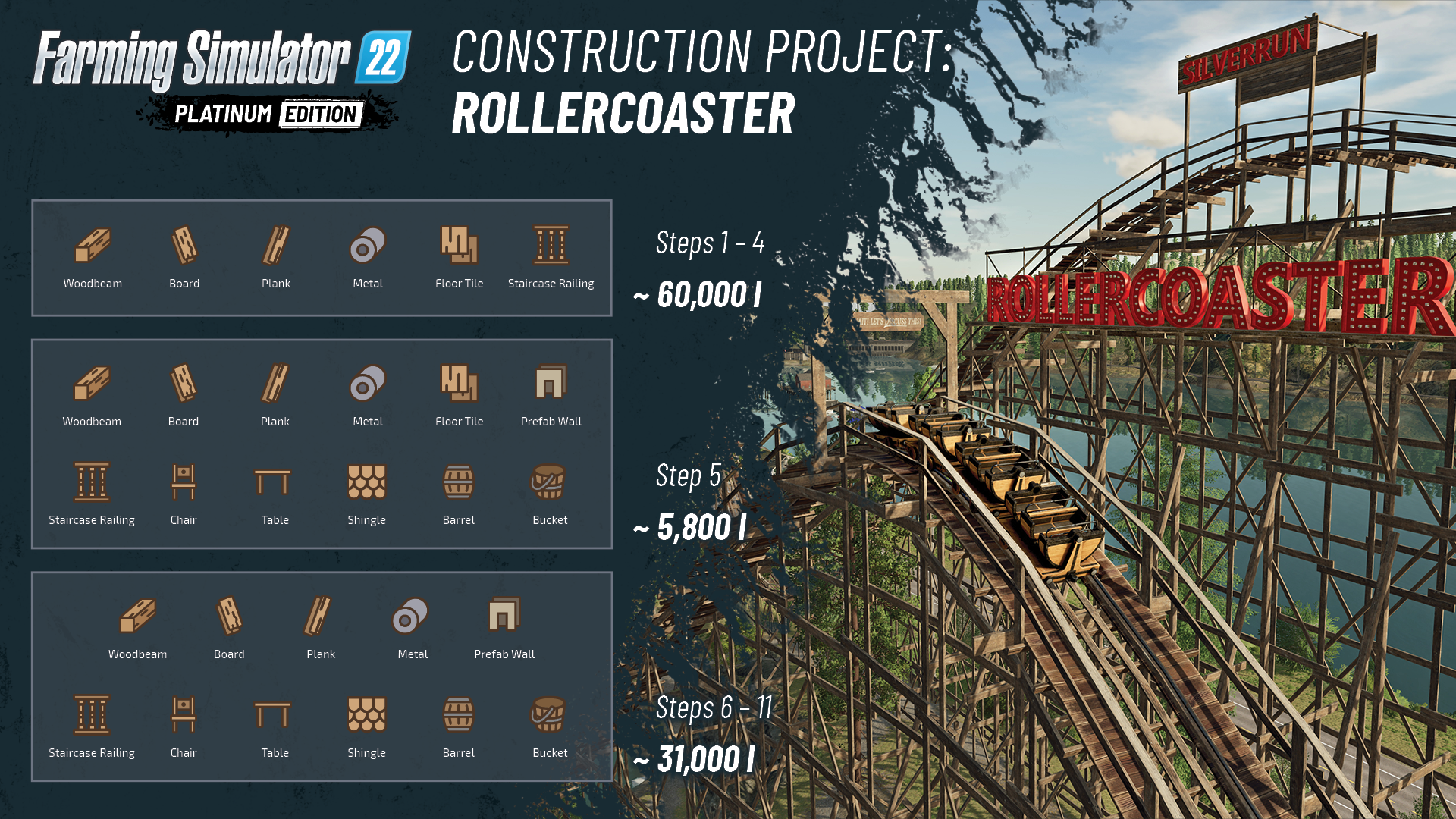 The new Platinum edition of Farming Simulator 22 also means that the Farming Simulator Academy has been updated with tutorials to include the new things. Farming Simulator Academy is – as the name hints – a very nice and helpful web based instruction manual with lots of tutorials on how to become a successful farmer, or forester, in Farming Simulator 22. In particular for newcomers to the game it is a big help to in order to learn the basics and probably ought to be more promoted than it has been since it provides more in-depth instructions than the in-game help (although it should also be mentioned that the in-game help instructions also has been updated lately).
All in all Farming Simulator 22 Platinum Edition is a not insignificant addition and upgrade to the base game. As a way to refresh the standard game one year into its life cycle it makes sense. But as an expansion for the game its usefulness like so many of the Farming Simulator DLCs depends on what the aim and focus of your own gaming sessions are. This is a big improvement for the forestry side of the game, but if you're a dedicated agricultural farmer you may not find it all that useful. It is of course always nice to have more options and game play choices – there are times when even a hardcore agro farmer may want to cut down some trees after all. Then there is also the prospect of what the mod community may come up with given these new tools and possibilities. In my opinion that may mean a lot for the attractiveness of the expansion. But as it is, the unusually nice Silverrun Forest map do however make it a nice experience up in the northern forests already out of the box.